kresources
KRES::ManagerObserver< T > Class Template Reference
abstract
#include <manager.h>
Inheritance diagram for KRES::ManagerObserver< T >: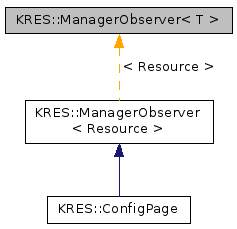 [legend]
Public Member Functions

virtual void 
resourceAdded (T *resource)=0
 
virtual void 
resourceDeleted (T *resource)=0
 
virtual void 
resourceModified (T *resource)=0
 
Detailed Description
template<class T>
class KRES::ManagerObserver< T >
Observer class for Manager class.
For getting notified about changes of Resources managed by a Manager object implement this Observer interface and add an object of this implementation to the Manager using addObserver(). The resourceAdded(), resourceModified() and resourceDeleted() functions of your implementation will be called whenever resources managed by the Manager object are added, modified or deleted.
---
The documentation for this class was generated from the following file:
This file is part of the KDE documentation.
Documentation copyright © 1996-2014 The KDE developers.
Generated on Tue Oct 14 2014 23:00:19 by
doxygen
1.8.7 written by
Dimitri van Heesch
, © 1997-2006
KDE's Doxygen guidelines are available online.