kig
TransformationImp Class Reference
#include <bogus_imp.h>
Inheritance diagram for TransformationImp: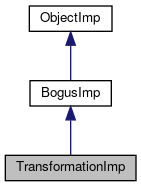 [legend]
Additional Inherited Members

 Protected Member Functions inherited from ObjectImp
 
ObjectImp ()
 
Detailed Description
Don't mistake this imp for something that draws a transformed object. It does something completely different. It's a pure data Imp, like DoubleImp and friends that serves only to store the data of a transformation ( see the Transformation class in ../misc/kigtransform.h
Definition at line 232 of file bogus_imp.h.
Member Typedef Documentation
Constructor & Destructor Documentation
Member Function Documentation
Returns a copy of this ObjectImp.
The copy is an exact copy. Changes to the copy don't affect the original.
Implements ObjectImp.
Definition at line 148 of file bogus_imp.cc.
| | | | | | |
| --- | --- | --- | --- | --- | --- |
| bool TransformationImp::equals | ( | const ObjectImp &  | rhs | ) | const |

virtual
Returns true if this ObjectImp is equal to rhs.
This function checks whether rhs is of the same ObjectImp type, and whether it contains the same data as this ObjectImp.
It is used e.g. by the KigCommand stuff to see what the user has changed during a move.
Implements ObjectImp.
Definition at line 187 of file bogus_imp.cc.
Returns the lowermost ObjectImpType that this object is an instantiation of.
E.g. if you want to get a string containing the internal name of the type of an object, you can do:
std::string
typename
=
object
.type()->internalName();
Implements ObjectImp.
Definition at line 265 of file bogus_imp.cc.
---
The documentation for this class was generated from the following files:
This file is part of the KDE documentation.
Documentation copyright © 1996-2020 The KDE developers.
Generated on Mon Jun 22 2020 13:12:06 by
doxygen
1.8.7 written by
Dimitri van Heesch
, © 1997-2006
KDE's Doxygen guidelines are available online.