KDECore
kmultipledrag.h File Reference
#include <qdragobject.h>
#include <qvaluelist.h>
#include "kdelibs_export.h"
Include dependency graph for kmultipledrag.h: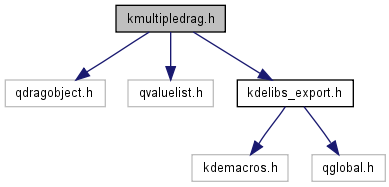 This graph shows which files directly or indirectly include this file:

Go to the source code of this file.



Classes

class
KMultipleDrag
This class makes it easy for applications to provide a drag object (for drag-n-drop or for clipboard) that has several representations of the same data, under different formats. More...