KHTML
DOM::Comment Class Reference
This represents the content of a comment, i.e., all the characters between the starting '
<!--
' and ending '
-->
'.
More...
#include <dom_text.h>
Inheritance diagram for DOM::Comment: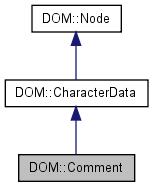 [legend]
---
Detailed Description
This represents the content of a comment, i.e., all the characters between the starting '
<!--
' and ending '
-->
'.
Note that this is the definition of a comment in XML, and, in practice, HTML, although some HTML tools may implement the full SGML comment structure.
Definition at line 223 of file dom_text.h.
---
Constructor & Destructor Documentation
| | | | | | |
| --- | --- | --- | --- | --- | --- |
| Comment::Comment | ( | const Comment & | other | ) | |
| | | | | | |
| --- | --- | --- | --- | --- | --- |
| DOM::Comment::Comment | ( | const Node & | other | ) | [inline] |
| | | | | | |
| --- | --- | --- | --- | --- | --- |
| Comment::Comment | ( | CommentImpl * | i | ) | [protected] |
---
Member Function Documentation
---
The documentation for this class was generated from the following files: