kio
kdirsize.h File Reference
#include <kio/job.h>
#include <kfileitem.h>
Include dependency graph for kdirsize.h:

This graph shows which files directly or indirectly include this file: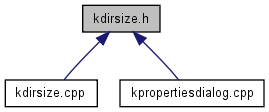 Go to the source code of this file.



Classes

class
KDirSize
Computes a directory size (similar to "du", but doesn't give the same results since we simply sum up the dir and file sizes, whereas du speaks disk blocks). More...