kio
kcombiview.h File Reference
#include <qsplitter.h>
#include <klocale.h>
#include <kfile.h>
#include <kfileview.h>
Include dependency graph for kcombiview.h:

This graph shows which files directly or indirectly include this file: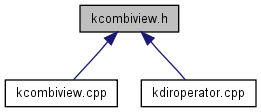 Go to the source code of this file.



Classes

class
KCombiView
This view is designed to combine two KFileViews into one widget, to show directories on the left side and files on the right side. More...