KXMLGUIBuilder
KXMLGUIBuilder Class Reference
#include <KXMLGUIBuilder>
Inheritance diagram for KXMLGUIBuilder: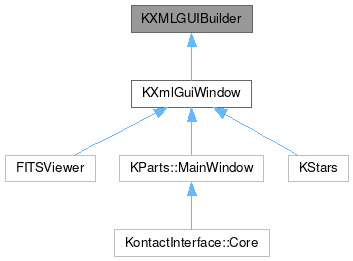 [legend]
Protected Member Functions

virtual void 
virtual_hook (int id, void *data)
 
Detailed Description
Implements the creation of the GUI (menubar, menus and toolbars) as requested by the GUI factory.
The virtual methods are mostly for historical reasons, there isn't really a need to derive from KXMLGUIBuilder anymore.
Definition at line 33 of file kxmlguibuilder.h.
Member Function Documentation
◆ createContainer()
Creates a container (menubar/menu/toolbar/statusbar/separator/...) from an element in the XML file.
Parameters

| | |
| --- | --- |
| parent | The parent for the container |
| index | The index where the container should be inserted into the parent container/widget |
| element | The element from the DOM tree describing the container (use it to access container specified attributes or child elements) |
| action | The action created for this container; used for e.g. passing to removeContainer. |
Definition at line 115 of file kxmlguibuilder.cpp.
◆ removeContainer()
Removes the given (and previously via createContainer ) created container.
Definition at line 259 of file kxmlguibuilder.cpp.
◆ removeCustomElement()
---
The documentation for this class was generated from the following files:
This file is part of the KDE documentation.
Documentation copyright © 1996-2023 The KDE developers.
Generated on Fri Dec 8 2023 03:58:08 by
doxygen
1.8.17 written by
Dimitri van Heesch
, © 1997-2006
KDE's Doxygen guidelines are available online.