Result
#include <result.h>
Inheritance diagram for Result: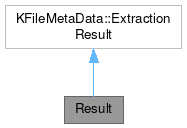 [legend]
Detailed Description
Member Function Documentation
Applies the finishing touches on the document, and makes it ready to be pushed into the db.
Definition at line 97 of file result.cpp.
Can be used to add extraction results to an existing Baloo::Document.
Has to be called before passing the Result to KFileMetaData::Extractor::extract().
Parameters
Definition at line 109 of file result.cpp.
---
The documentation for this class was generated from the following files:
This file is part of the KDE documentation.
Documentation copyright © 1996-2021 The KDE developers.
Generated on Mon Jul 26 2021 23:01:51 by
doxygen
1.8.11 written by
Dimitri van Heesch
, © 1997-2006
KDE's Doxygen guidelines are available online.