ShadowedTextureNode
ShadowedTextureNode Class Reference
#include <shadowedtexturenode.h>
Inheritance diagram for ShadowedTextureNode: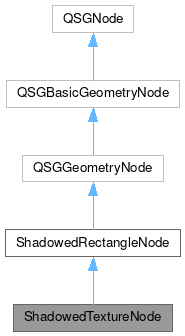 [legend]
Detailed Description
Scene graph node for a shadowed texture source.
This node will set up the geometry and materials for a shadowed rectangle, optionally with rounded corners, using a supplied texture source as the color for the rectangle.
Note

You must call updateGeometry() after setting properties of this node, otherwise the node's state will not correctly reflect all the properties.
See also
Definition at line 27 of file shadowedtexturenode.h.
---
The documentation for this class was generated from the following files:
This file is part of the KDE documentation.
Documentation copyright © 1996-2023 The KDE developers.
Generated on Mon Feb 6 2023 04:13:18 by
doxygen
1.8.17 written by
Dimitri van Heesch
, © 1997-2006
KDE's Doxygen guidelines are available online.