QCA
qca_keystore.h File Reference
Include dependency graph for qca_keystore.h:

This graph shows which files directly or indirectly include this file: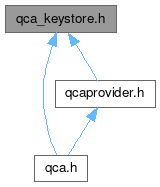 Go to the source code of this file.
Detailed Description
Header file for classes that provide and manage keys
Note

You should not use this header directly from an application. You should just use #include <QtCrypto> instead.
Definition in file qca_keystore.h.
This file is part of the KDE documentation.
Documentation copyright © 1996-2023 The KDE developers.
Generated on Sat Apr 1 2023 03:55:34 by
doxygen
1.8.17 written by
Dimitri van Heesch
, © 1997-2006
KDE's Doxygen guidelines are available online.